Product Description
Overview
—————————————————————————————————————————————————————————————————–
Quick Details
Gearing Arrangement:    Worm                                                                                                                 
Brand Name:                  EED
Input Speed:                     1400 rpm                                                                                                         
Certification:                   CE, ROHS, ISO9000
Rated Power:                    3 ~ 4KW                                                                                                           
Output Torque:               2.8-2430N.M
Color:                                 Blue/Silver or on request                                                                               
Origin:                              ZHangZhoug, China (Mainland)         
Warranty:                           1 Year                                                                                                                Ratio:1/10.1/15,1/20,1/25,1/30,1/40,1/50,1/60 
—————————————————————————————————————————————————————————————————–
Supply Ability
Supply Ability:                   20000 Piece/Pieces per Month
Extra Service:                    OEM is welcome         
QC System:                        ISO9001:2008
—————————————————————————————————————————————————————————————————–
Packaging & Delivery
Package:                            Wooden box/Paper carton    
Port:                                    HangZhou/ZheJiang  or on request     
—————————————————————————————————————————————————————————————————–
1. Widely used in turbines, shaft liners and axletrees, good resistance to wearing, with high precision in
dimensions, lower noise, advanced centric running castings
2. Without vent and highly precision
3. The whole structure is compact and the weight is larger
—————————————————————————————————————————————————————————————————–
Notice of installation
1 .Thebase-plate must be plane and stoutness, and the base-plate must be screwed downand shockproof.
2. Theconnecting shaft of prime mover, reducer and operation device must be coaxialinstallation.
3 .Thediameter tolerance zone of input and output shaft is H6, the holes of fittings(such as couplings, belt pulley, sprocket wheel and so on) must properly matethe shaft, which prevents bearing from breakage because of over-loose mate.
4. Driverssuch as sprocket wheel and gear must be fitted close to bearings in order toreduce bending stress of hanging shaft.
5. Whiteassembling motor of WPD reducer, it is necessary that proper amount of butterapplies to the worm shaft input hole and keyway, avoiding assembling tootightly and rusting after using for a long time.
6. WhenOrdering or using all kinds of WPD type, if the motor weight is binger than thecommon, supporting set is required.
—————————————————————————————————————————————————————————————————–
Notices of usage
1 .Before using, please check carefully whether the reducer model, distance, ratio, input connecting method,
output shaft structure, input and output shaftdirection and revolving direction accord with requirement.
2 .According to the requirement of selecting lubricant oil in the productmanual, please fill proper category and
brand lubricant. And then screw on thevent-plug; Unlock the small cone-plug of vent-plug. Only after doing th-
ese, reducer is already for starting up running. The proper brand and adequatelubricant oil is required, replac-
ing oil in time conforming to the request ofproduct manual is also necessary, especially after using first 100 h-
ours, it isrequired refilling new oil.
3 .Whenabnormal circumstances occur, please stop and check reducer per solutions andreasons for faults of
reducer (allowable highest oil temperature is 95, under this temperature limit, ifoil temperature no more goes
up, please let reducer continue running.
About CZPT since 1984
HangZhou Melchizedek Import & Export Co., Ltd. is a leader manufactur in mechanism field and punching/stamping field since 1984. Our main product, NMRV worm gear speed reducer and series helical gearbox, have reached the advanced technique index of the congeneric European and Janpanese products, We offer standard gears, sprockets, chains, pulleys, couplings, bushes and so on. We also can accept orders of  non-standard products, such as gears, shafts, punching parts ect, according to customers' Drawings or samples. 
Our company has complete set of equipment including CNC, lathes, milling machines, gear hobbing machine, gear grinding machine, gear honing machine, gear shaping machine, worm grinder, grinding machines, drilling machines, boringmachines, planer, drawing benches, punches, hydraulic presses, plate shearing machines and so on. We have advanced testing equipments also. 
Our company has established favorable cooperation relationships with sub-suppliers involving casting, raw material, heat treatment, surface finishing and so on.
| | |
| --- | --- |
| Application: | Motor, Machinery, Agricultural Machinery |
| Hardness: | Hardened Tooth Surface |
| Installation: | Horizontal Type |
| Layout: | Coaxial |
| Gear Shape: | Conical – Cylindrical Gear |
| Step: | Single-Step |
| | |
| --- | --- |
| Customization: | |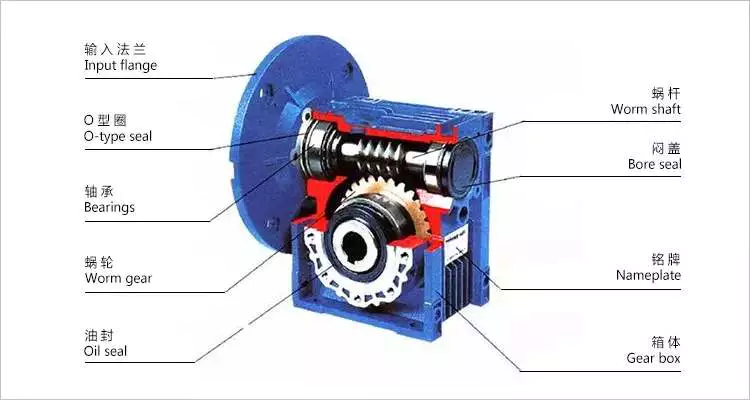 Worm gear reducer gearbox
Cheaper than planetary gearboxes In many cases, worm gear reducer gearboxes are a popular alternative to planetary gearboxes. A worm gear reducer gearbox is a mechanical device with vertical input and output shafts. This allows for very high reduction ratios. They are typically used in high-reduction situations such as machine tools.
Worm gears are cheaper than traditional gearboxes. They also have many benefits, including noise reduction. The output shaft of the worm gear reducer gearbox is almost 90 degrees from the motor input shaft, making it ideal for high-torque applications.
The worm gear reducer gearbox adopts an aluminum body, which is light in weight and high in operation efficiency. Additionally, they are available with hollow shafts and mounting flanges. In terms of initial cost, worm gear reducer gearboxes are cheaper than planetary gearboxes. In addition, they have better efficiency and longer service life.
Worm drives are also ideal for portable battery-powered lifting equipment. The high gear ratio of the worm gear ensures that it does not reverse drive. The worm gear has a spring-applied brake that holds the motor in place.
Planetary gearboxes are popular among industrial users. The efficiency of planetary gearboxes is important for practical applications.
pocket
The compact worm gear unit consists of a housing with an inner cavity. It has two side walls, one on either side of the front cover (13) and one on both sides of the rear cover (14). The front end cap is screwed onto the housing and the inner cavity is accessed through the rear end cap.
The compact worm gear unit can be configured to suit your application. They have many advantages, including saving space and increasing torque. The range includes single-envelope and double-envelope versions, available in a number of different power ratings. Additionally, they are IP65-rated, making them ideal for applications involving high radial or axial forces.
The compact worm reducer gearbox is a simple but effective worm drive. Its worm gear 16 meshes with the output shaft and rotates relatively stably. It also has a front-end cap and rear bearing. This enables the compact worm reducer gearbox to reduce vibration without damaging the output shaft.
Compact worm gear reducer gearboxes are ideal for many applications and offer high efficiency. The compact design means you can mount them on the motor's flange or base. Its durable construction makes it ideal for a variety of industries. They are extremely durable and can handle high-pressure and washdown conditions. They also come standard with a synthetic shaft.
high efficiency
High-efficiency worm gear reducer gearboxes are ideal for applications that require precision, repeatability, and efficient performance. These reducer gearboxes are designed with state-of-the-art servo motor technology to provide tight integration and an angular backlash of less than two arc minutes. The reduction ratio can be lower if the application requires it.
Rising energy costs have led to an increased focus on the efficiency of drives. In response to this, manufacturers have increased the efficiency of worm gear reducer gearboxes through a number of technical improvements. By minimizing losses from rolling and sliding friction, worm gear reducer gearboxes are more efficient than their counterparts.
The high-efficiency worm reducer gearbox is simple in design and has the characteristics of a compact structure, high-speed ratio, low power consumption, and self-locking. Other advantages of these reducer gearboxes include low noise and long service life. Many also have built-in control systems that allow manual and remote adjustments. They also feature automatic shutdown protection and thermal protection.
High-efficiency worm reducer gearboxes can be used for mechanical acceleration. The input hypoid gear is usually made of steel, while the output hypoid gear is usually made of bronze. Bronze is a soft metal that is good at absorbing shock loads. However, bronze requires work hardening to achieve optimum hardness. For large worm gears, this process can take 300 to 550 hours.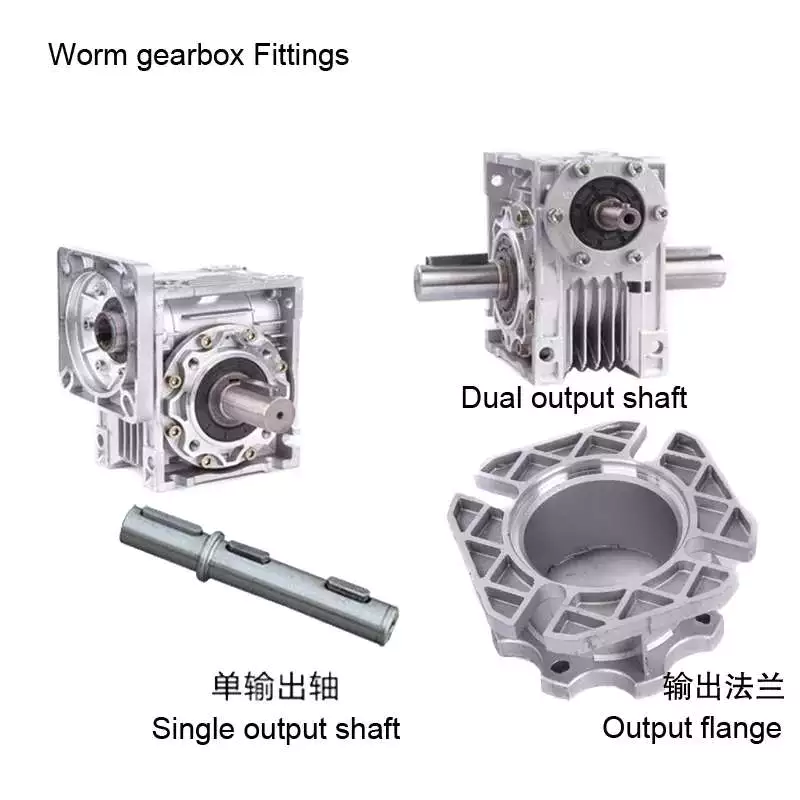 low clearance
A low-clearance worm reducer gearbox is a device used to adjust the speed of a rotating shaft. It uses a worm gear consisting of two members. One worm is at one end of the shaft and the other is at the other end. Both worms are screwed into the synchronous drive structure.
Low clearance worm gear reducer gearboxes can be produced on conventional worm gear production lines without overlapping investments. These units are usually made of soft rubber. Also, they are relatively quiet in operation. These machines are designed so that they are suitable for use in elevators. The softer material in the worm gear also helps absorb shock loads.
The tooth profile of the worm gear is designed to change with the axial movement of the worm. Worms have thinner right teeth and thicker left teeth. As the worm moves to the right, its teeth mesh with the worm gear, reducing backlash.
There are many different types of worm gears. The design of gears depends on many factors, including backlash, thermal design, friction factors and lubrication. Worm gears are made of several different materials. Some different types of materials used in worm gears require special lubrication.
quieter
The quieter worm reducer gearbox is designed to reduce the noise level of the rotating gear motor. The device has more gear teeth in meshing contact with the gears, which helps it run more quietly. In addition to being quieter than other transmissions, it's also less expensive than its counterparts.
Worm gearboxes can be used for different applications, but they are not as efficient as helical gearboxes. Worm reducer gearboxes are cheaper but less than 90% efficient. Higher gear ratios reduce efficiency, so worm gear reducer gearboxes are better suited for applications that require low-speed torque. The cost of buying a worm gearbox will depend on the horsepower and gear ratios required.
Worm reducer gearboxes are also more comfortable to use than planetary gearboxes. They don't vibrate and heat up quickly, making them an excellent choice for low to medium horsepower applications. Worm gear reducer gearboxes can be upgraded to improve their performance by combining with other gear trains or gearboxes.


easy to replace
An easily replaceable worm gear reducer gearbox can save you a lot of money. A worm gear reducer gearbox is part of a chain drive and allows you to change gear ratios quickly and easily. Worm gear reducer gearboxes can be easily replaced in a number of ways. It's a good idea to read the manufacturer's manual before replacing a worm gear reducer gearbox. Make sure you have the instructions available so you can refer to them in the future.
Worm gear reducer gearboxes offer many advantages, including long service life and low noise. They are also designed with a 90-degree output shaft for easy installation. Another advantage of these gear reducer gearboxes is that they can be used with both solid and hollow output shafts. This means less maintenance and downtime.
Worm gear reducer gearboxes are widely used. Most gear manufacturers have large inventories. Worm gears also have uniform mounting dimensions. Dimensional consistency means you don't have to worry about matching the shaft length and diameter to the worm gear. You can easily find a replacement worm gear reducer gearbox for your equipment.
When replacing the worm gear reducer gearbox, check the lubricating oil recommended by the machine. If not included, use original gear oil. Be sure to follow the manufacturer's instructions carefully.



editor by CX 2023-05-19
Product Description
Wp Worm Equipment Reductor Belt Conveyor Drives Speed Reducer Gearbox. base on several years of encounters makes use of designed tooth area with unsurpassed torque transfer
functionality with fantastic performance, efficency and price.Worm equipment program transmits electricity
via sliding contact, resulting in really low vibration , sounds, minor backlash and
self-locking residence.
The structural power of our solid iron, Heavy-duty Proper angle sequence reducers are obtainable in speed ratios ranging from ten:1 to 60:1. Ratio ranging of double stage from 200:1 to 900:one
Also, our gearboxes are equipped with a breather plug and oil mirror which you can judge whether enough oil within.
RICHMAN Common SOURCING CO Minimal is positioned in HangZhou ZheJiang . With much more than 20 several years knowledge in equipment transmission location, we have our owned manufacturing facility and solution strains. Worm reducer (WP series RV series VF collection), screw jack reducer (WSH sequence) and helical gearbox (K,S,R,F sequence) are present primarily goods. Stringent and precision quality management treatment can make the final goods meet calls for of our buyers.
We try out to produce diverse markets, cooperate with kinds of consumers, which can helps make us hold relocating ahead, hold innovative and intercontinental eyesight. Richman Common Sourcing is your greatest associate of transmission resolutions.



/ Piece




|

10 Pieces



(Min. Order)

###
| | |
| --- | --- |
| Application: | Motor, Machinery, Marine, Agricultural Machinery |
| Hardness: | Hardened Tooth Surface |
| Installation: | 90 Degree |
| Layout: | Expansion |
| Gear Shape: | Conical – Cylindrical Gear |
| Step: | Four-Step |
###



/ Piece




|

10 Pieces



(Min. Order)

###
| | |
| --- | --- |
| Application: | Motor, Machinery, Marine, Agricultural Machinery |
| Hardness: | Hardened Tooth Surface |
| Installation: | 90 Degree |
| Layout: | Expansion |
| Gear Shape: | Conical – Cylindrical Gear |
| Step: | Four-Step |
###
What is a worm gear reducer gearbox?
A worm gear reducer gearbox is a mechanical device that uses a worm gear and a worm to reduce the speed of a rotating shaft. The gear reducer gearbox can increase the output torque of the engine according to the gear ratio. This type of gear reducer gearbox is characterized by its flexibility and compact size. It also increases the strength and efficiency of the drive.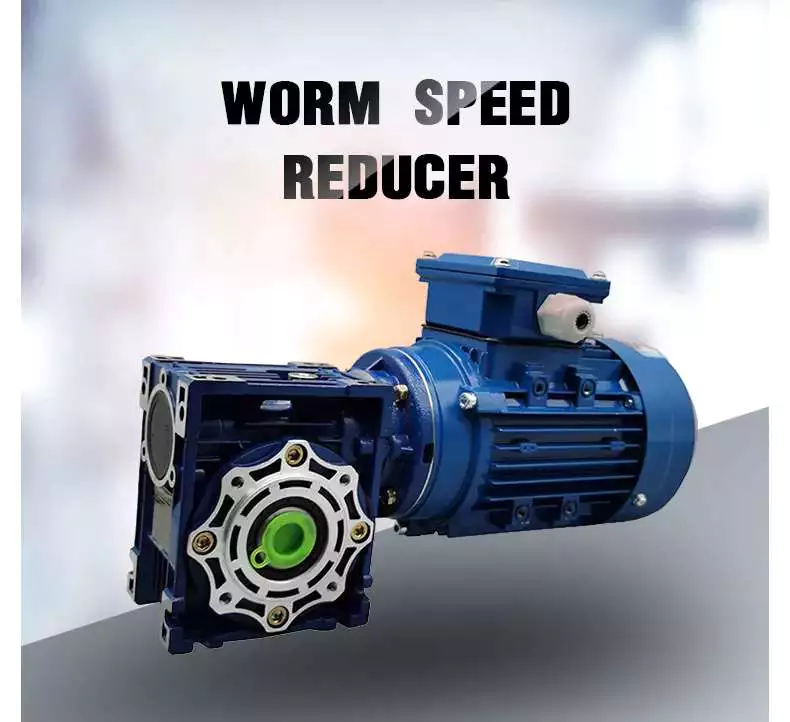 Hollow shaft worm gear reducer gearbox
The hollow shaft worm gear reducer gearbox is an additional output shaft connecting various motors and other gearboxes. They can be installed horizontally or vertically. Depending on size and scale, they can be used with gearboxes from 4GN to 5GX.
Worm gear reducer gearboxes are usually used in combination with helical gear reducer gearboxes. The latter is mounted on the input side of the worm gear reducer gearbox and is a great way to reduce the speed of high output motors. The gear reducer gearbox has high efficiency, low speed operation, low noise, low vibration and low energy consumption.
Worm gear reducer gearboxes are made of hard steel or non-ferrous metals, increasing their efficiency. However, gears are not indestructible, and failure to keep running can cause the gear oil to rust or emulsify. This is due to moisture condensation that occurs during the operation and shutdown of the reducer gearbox. The assembly process and quality of the bearing are important factors to prevent condensation.
Hollow shaft worm gear reducer gearboxes can be used in a variety of applications. They are commonly used in machine tools, variable speed drives and automotive applications. However, they are not suitable for continuous operation. If you plan to use a hollow shaft worm gear reducer gearbox, be sure to choose the correct one according to your requirements.
Double throat worm gear
Worm gear reducer gearboxes use a worm gear as the input gear. An electric motor or sprocket drives the worm, which is supported by anti-friction roller bearings. Worm gears are prone to wear due to the high friction in the gear teeth. This leads to corrosion of the confinement surfaces of the gears.
The pitch diameter and working depth of the worm gear are important. The pitch circle diameter is the diameter of the imaginary circle in which the worm and the gear mesh. Working depth is the maximum amount of worm thread that extends into the backlash. Throat diameter is the diameter of the circle at the lowest point of the worm gear face.
When the friction angle between the worm and the gear exceeds the lead angle of the worm, the worm gear is self-locking. This feature is useful for lifting equipment, but may be detrimental to systems that require reverse sensitivity. In these systems, the self-locking ability of the gears is a key limitation.
The double throat worm gear provides the tightest connection between the worm and the gear. The worm gear must be installed correctly to ensure maximum efficiency. One way to install the worm gear assembly is through a keyway. The keyway prevents the shaft from rotating, which is critical for transmitting torque. Then attach the gear to the hub using the set screw.
The axial and circumferential pitch of the worm gear should match the pitch diameter of the larger gear. Single-throat worm gears are single-threaded, and double-throat worm gears are double-throat. A single thread design advances one tooth, while a double thread design advances two teeth. The number of threads should match the number of mating gears.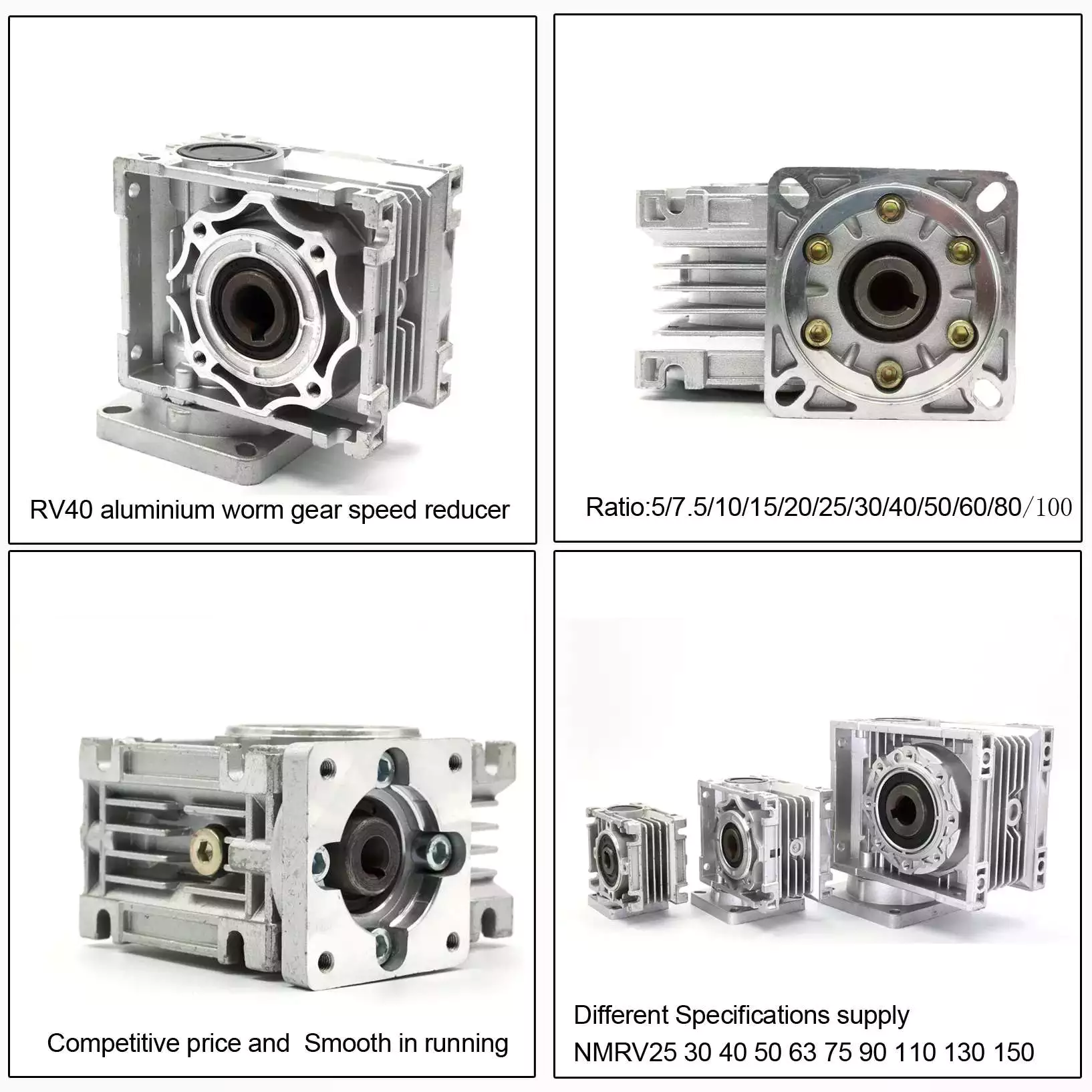 Self-locking function
One of the most prominent features of a worm reducer gearbox is its self-locking function, which prevents the input and output shafts from being interchanged. The self-locking function is ideal for industrial applications where large gear reduction ratios are required without enlarging the gear box.
The self-locking function of a worm reducer gearbox can be achieved by choosing the right type of worm gear. However, it should be noted that this feature is not available in all types of worm gear reducer gearboxes. Worm gears are self-locking only when a specific speed ratio is reached. When the speed ratio is too small, the self-locking function will not work effectively.
Self-locking status of a worm reducer gearbox is determined by the lead, pressure, and coefficient of friction. In the early twentieth century, cars had a tendency to pull the steering toward the side with a flat tire. A worm drive reduced this tendency by reducing frictional forces and transmitting steering force to the wheel, which aids in steering and reduces wear and tear.
A self-locking worm reducer gearbox is a simple-machine with low mechanical efficiency. It is self-locking when the work at one end is greater than the work at the other. If the mechanical efficiency of a worm reducer gearbox is less than 50%, the friction will result in losses. In addition, the self-locking function is not applicable when the drive is reversed. This characteristic makes self-locking worm gears ideal for hoisting and lowering applications.
Another feature of a worm reducer gearbox is its ability to reduce axially. Worm gears can be double-lead or single-lead, and it is possible to adjust their backlash to compensate for tooth wear.
Heat generated by worm gears
Worm gears generate considerable amounts of heat. It is essential to reduce this heat to improve the performance of the gears. This heat can be mitigated by designing the worms with smoother surfaces. In general, the speed at which worm gears mesh should be in the range of 20 to 24 rms.
There are many approaches for calculating worm gear efficiency. However, no other approach uses an automatic approach to building the thermal network. The other methods either abstractly investigate the gearbox as an isothermal system or build the TNM statically. This paper describes a new method for automatically calculating heat balance and efficiency for worm gears.
Heat generated by worm gears is a significant source of power loss. Worm gears are typically characterized by high sliding speeds in their tooth contacts, which causes high frictional heat and increased thermal stresses. As a result, accurate calculations are necessary to ensure optimal operation. In order to determine the efficiency of a gearbox system, manufacturers often use the simulation program WTplus to calculate heat loss and efficiency. The heat balance calculation is achieved by adding the no-load and load-dependent power losses of the gearbox.
Worm gears require a special type of lubricant. A synthetic oil that is non-magnetic and has a low friction coefficient is used. However, the oil is only one of the options for lubricating worm gears. In order to extend the life of worm gears, you should also consider adding a natural additive to the lubricant.
Worm gears can have a very high reduction ratio. They can achieve massive reductions with little effort, compared to conventional gearsets which require multiple reductions. Worm gears also have fewer moving parts and places for failure than conventional gears. One disadvantage of worm gears is that they are not reversible, which limits their efficiency.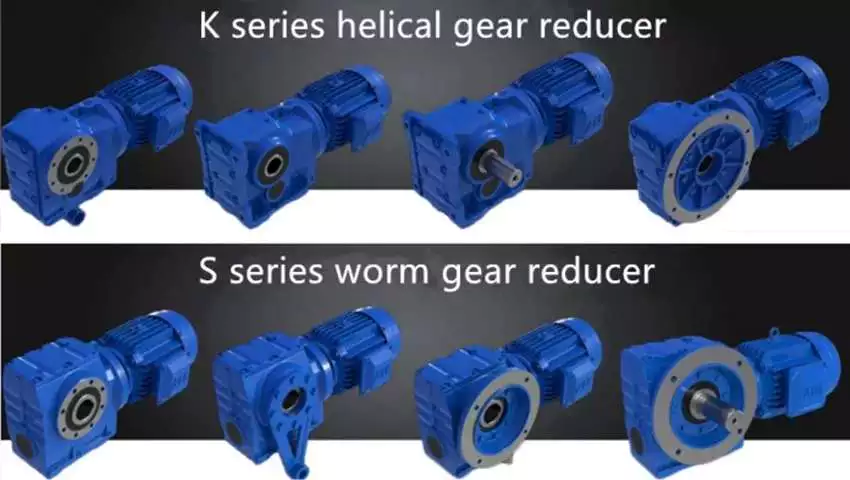 Size of worm gear reducer gearbox
Worm gear reducer gearboxes can be used to decrease the speed of a rotating shaft. They are usually designed with two shafts at right angles. The worm wheel acts as both the pinion and rack. The central cross section forms the boundary between the advancing and receding sides of the worm gear.
The output gear of a worm gear reducer gearbox has a small diameter compared to the input gear. This allows for low-speed operation while producing a high-torque output. This makes worm gear reducer gearboxes great for space-saving applications. They also have low initial costs.
Worm gear reducer gearboxes are one of the most popular types of speed reducer gearboxes. They can be small and powerful and are often used in power transmission systems. These units can be used in elevators, conveyor belts, security gates, and medical equipment. Worm gearing is often found in small and large sized machines.
Worm gears can also be adjusted. A dual-lead worm gear has a different lead on the left and right tooth surfaces. This allows for axial movement of the worm and can also be adjusted to reduce backlash. A backlash adjustment may be necessary as the worm wears down. In some cases, this backlash can be adjusted by adjusting the center distance between the worm gear.
The size of worm gear reducer gearbox depends on its function. For example, if the worm gear is used to reduce the speed of an automobile, it should be a model that can be installed in a small car.



editor by CX 2023-04-11